Still no time for a real blog entry (not if I want to visit a few people, eat supper, & sleep more than 5 hours), so here's a cheater meme, courtesy of these lovely folks: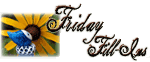 1. Idle hands are either sleeping or waiting for the pain meds to kick in.
2. I love just standing under the hot water in the shower.
3. My favorite time of the day is when I first get home- I can put on some comfy clothes, & relax in my chair with something to drink & my feline kids.
4. The last tea I drank was iced Ceylon with lemon peel & spearmint.
5. I like to go to the Concerts in the Park during the Summer.
6. My mother always said, "Let me be the Mother" (I was the oldest at home & in charge of my siblings too often, apparently).
7. And as for the weekend, tonight I'm looking forward to an evening home alone, finishing projects; tomorrow my plans include going in to work, farmers' market, dentist, & Sam's golf clinic; and Sunday, I want to stay home & nap, but it is my weekend to docent at Ravenswood!